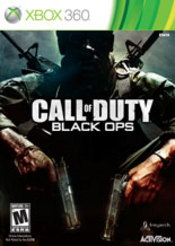 Call of Duty: Black Ops is the latest (#7) in the Call of Duty series and was released Nov. 9th 2010.  It's an FPS for all the major gaming consoles as well as MS Windows.  When it was released it set the record for sales in the first 24 hours – by selling 5.6 million copies!
Development of CoD:Black Ops was semi-secret, and wasn't announced officially until April 30th, 2010, just 7 months before release (not all that long in today's game development timelines).  It uses the World at War engine with an "on-the-fly" streaming texture system, which means you can have much larger levels without having to wait for loading – pretty cool indeed.
The audio actors for the game is as impressive as it's first day sales.  Alex Mason, the main character, is played by Avatar lead Sam Worthington.  Ed Harris, Gary Oldman, and Ice Cube have staring roles, as does Emmanuelle Chriqui (who plays Sloan on HBO's Entourage).  That's an all-star cast if you ask me.  The game deserves them, and they exceed expectations.  Even Robert Picardo from Star Trek Voyager fame (the Emergency Medical Hologram) has a role in the game.
First Strike
The first DLC for the game, First Strike, is a map pack released earlier this month on Feb 1st. It contains new maps for multiplayer mode, and a new map for Zombie mode.  It's only available for Xbox 360 now, but in a few days will be available for PS3 as well.
Cheat Codes
The game comes with some interesting cheat codes and passwords for the in-game computer system. These are what make parts of the game very entertaining. Some of the codes include:
You can unlock the Dead Ops (Zombie) Arcade game by entering "DOA" in the computer at the beginning of the main screen.
You can unlock the Zombie Mode by beating the game on any difficulty level.
You can also unlock Zombie Mode by getting loose from the chair at the beginning (rocking back and forth) and then entering the code: "3ARC UNLOCK"
You can play the text adventure game ZORK, by entering (cleverly): "ZORK" at the computer terminal.
There are more Call of Duty Black Ops Cheat Codes available at CheatCodes.com. The other platforms also have codes and hints: PS3, Wii, DS, and Windows PC.
Your Thoughts
What do you think is the reason for Black Ops massive success?  Leave a comment, and let us know.  It would be interesting to hear some opinions.  We're working on a post-release review for CoD:BO, so any of your comments will help us!