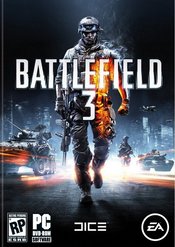 Who's ready for Battlefield 3?  And is it going to be better than the Call of Duty?  There's only 3 months until it hits the pavement – 10/25/11! Leave your comments on the game pages, or here on the CheatCodes.com Blog – let's see if EA's 100 million dollar investment is going to pay off.
Set in 2014, you will take on the role of Staff Sergeant Henry 'Black' Blackburn and Marine Sgt. Miller. The former is a member of the USMC deployed along the Iran/Iraq border while the latter takes part in a tank battle near Tehran.  Staff Sargent Blackburn leads a  5 man squad on a mission to locate, find, and safely return a US squad investigating a possible chemical weapons site, whose last known position was a market controlled by a hostile militia. After engaging in several gun battles, Blackburn and his squad are caught in a massive earthquake whose epicenter is in Iran. Brief shots from the campaign trailer depict an aerial view of a war-torn city, a column of tanks being attacked by cluster munitions, and an aerial dogfight between US and Russian fighter aircraft.
We've added the trailers on the CheatCodes pages. We'll be adding more content as soon as it's available. And, if you have some hints and tips of your own, submit them!
Available on: BF3 for PC, BF3 for PS3, and BF3 for Xbox360.